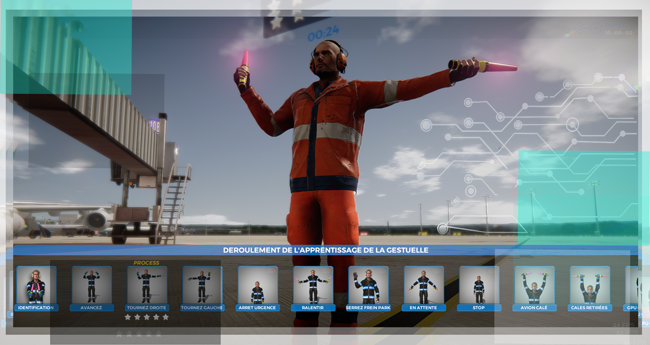 Marshalling is a difficult task where even the smallest error could lead to costly consequences.
It is important to perfectly master visual contact with aircraft, proper communication gestures and parking area rules to avoid any problem.
Our virtual reality training is the best way to reach excellence and ensure future real life operational safety.
We offer a progressive two stage training module compliant with IATA requirements :
Stage 1 / Virtual training room session
To learn and practice hand signals.
Stage 2 / Marshalling Virtual simulation area
Type
Marshalling Simulator
Pricing
Annual subscription / On Premise install. or Cloud (soon)
Sales contact
CLEF JOB IN
Audience
GHS, Training Center, Airlines and Airport ground opearations.
Best in Class
Learn IATA hand signals in our training room

Unlike conventional training, the simulator lets users repeat gestures as often as required without risking aircraft or equipment damage

Test your skills to unforseen events (Aircraft damage,…)
Optimize Training Time
By learning IATA hand signals gesture and learn different scenario, time spent on ground can be reduced.
Improve knowledge retention
Learning by doing is one of crucial steps during Marshalling training program which cannot be reproduced in a classroom.
VR Simulation allows to learn and repeat the right gesture at the right time.